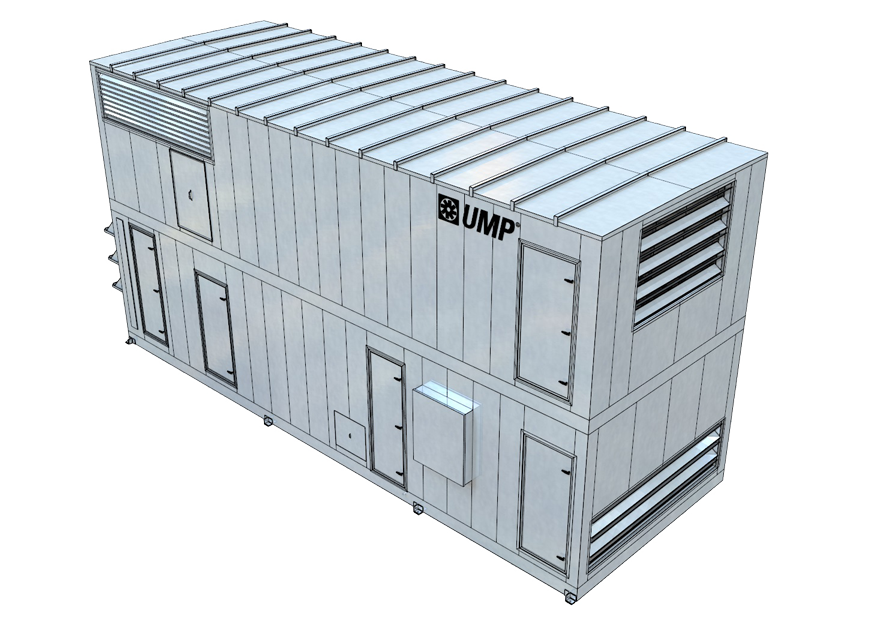 Cross Flow Heat Exchanger
The DC-XRA is an indirect and/or direct evaporative cooling solution for data centers. This system integrates cross-flow heat exchangers to provide energy efficient cooling. A critical path toward lowering the overall PUE in a data center is to get the power consumption required by the mechanical systems under control. One of the more strategic and effective approaches to reducing the amount of energy required by the cooling systems is to reduce or eliminate entirely the amount of time that compressors are running. In order to help data centers reduce their PUE, United Metal Products developed the DC-XRA. The integration of the cross flow heat exchanger is into a compact footprint with either indirect or direct evaporative cooling.
The technology that this solution is based on has been applied by United Metal Products on facilities throughout the United States and has been applied specifically on data centers in the last several years. One notable deployment of this solution is on the enterprise data center for a large financial company. The data center that applied this solution has the best annualized PUE of any of this corporation's data centers. In fact, by using this energy efficient cooling solution they have been able to lower their PUE to be one of the most efficient, if not the most efficient, data centers in the world with standardized inlet supply temperatures (based on ASHRAE 9.9 recommended guidelines with a maximum inlet supply temperature of 80.6°F).
FEATURES
The Cross Flow Plate technology
5,000-100,000 CFM or higher
30 kW-600 kW of cooling capacity
Double wall foam filled thermal break construction
Indirect evaporative cooling
Direct evaporative cooling
Trim - DX cooling 10% -50%
100% - DX back up
EC fan variable speed technology
Single point power connection
ETL listed and labeled in accordance with UL1995
---
The Cross Flow Plate  Technology
5,000-100,000 CFM or Higher
30 kW-600 kW of cooling capacity
Double wall foam filled thermal break construction
Indirect Evaporative cooling
Direct Evaporative cooling
Trim - DX cooling 10% -50%
100% - DX back up
EC fan variable speed technology
Single point power connection
ETL Listed and Labeled in accordance with UL1995