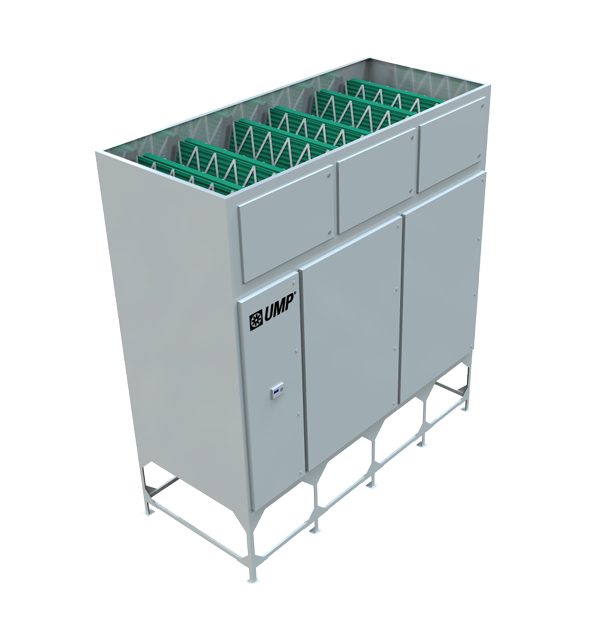 Computer Room Air Handler
United Metal Products CRAH units (Computer Room Air Handlers) offer an energy efficient, reliable, low maintenance, and cost effective cooling solution for data centers. United Metal Products has provided CRAHs for large technology data centers, colocation companies, and other enterprise mission critical facilities. The flexible, high quality, and customizable design of the CRAHs allow end users to maximize their energy savings & reduce their operational expenditures. The customization of these units allows for (non-traditional) larger sizes that are especially helpful for colocation companies who are looking to optimize revenue creating white space.
United Metal Products CRAHs can be customized for the specific facility and geographic location and provide a strategic component of an overall energy savings strategy. The CRAH, in conjunction with the Adiabatic Hydro Cooler™, is uniquely designed to help data center owners and facility managers save money by reducing energy consumption and raising the supply air temperature to the equipment.
FEATURES
Can be paired with traditional air-cooled or water-cooled chillers
Perfect complement to compressor free and evaporative technology cooling systems that deliver the latest recommended temperatures to data centers
Minimum maintenance
Heavy gauge construction
Energy efficient direct drive fans
Highly reliable design
Multiple coil options with large surface areas allow for optimal performance
Available in a number of sizes to match required air volumes, coil capacities,airflow configurations and TSPs
Reduced Power Usage Effectiveness (PUE)
Use with energy efficient Adiabatic Hydro CoolerTM technology for lower kW/Ton than conventional systems. Factory tested and shipped ready to operate, including factory wired components
Fan performance is factory set to job specifications
Stainless steel, galvanized or aluminum construction, with or without epoxy powder paint finish baked on at 375°F
ETL listed and labeled in accordance with UL1995
Using the CRAH in conjunction with the Adiabatic Hydro CoolerTM results in a smaller carbon footprint than A/C
---
Can be paired with traditional air-cooled or water-cooled chillers
Perfect complement to compressor free and evaporative technology cooling systems that deliver the latest recommended temperatures to data centers
Minimum maintenance
Heavy gauge construction
Energy efficient direct drive fans
Highly reliable design
Multiple coil options with large surface areas allow for optimal performance
Available in a number of sizes to match required air volumes, coil capacities,airflow configurations and TSPs
Reduced Power Usage Effectiveness (PUE)
Use with energy efficient Adiabatic Hydro CoolerTM technology for lower kW/Ton than conventional systems. Factory tested and shipped ready to operate, including factory wired components
Fan performance is factory set to job specifications
Stainless steel, galvanized or aluminum construction, with or without epoxy powder paint finish baked on at 375°F
ETL listed and labeled in accordance with UL1995
Using the CRAH in conjunction with the Adiabatic Hydro CoolerTM results in a smaller carbon footprint than A/C