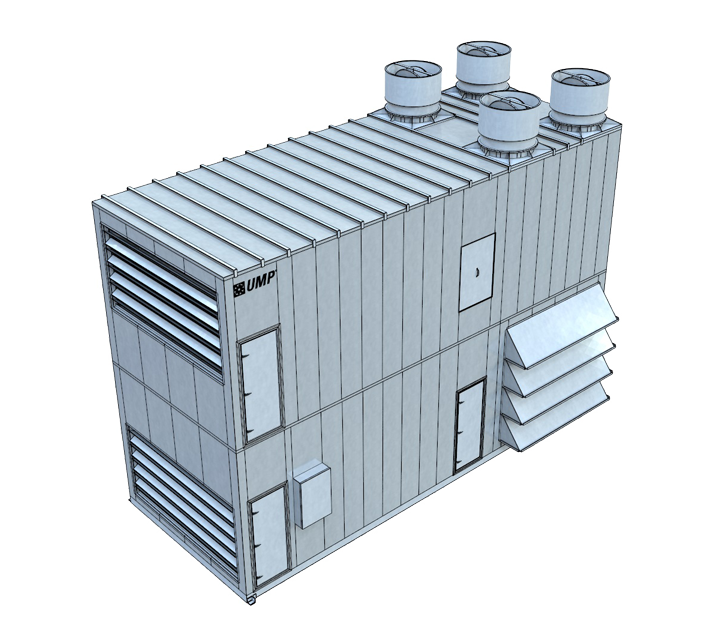 Indirect Return Air unit
Power usage is one of the main challenges for data center users. By some estimates 2% of all power in the United States is being consumed by data centers and a significant amount of the electricity goes toward cooling the data center facility. UMP has developed, manufactured, and deployed the industry standard for unitary indirect systems, DC-IRAe™. The key to this breakthrough is evaporative cooling. The DC-IRAe™'s unique configuration captures this simple, yet powerful, principle and uses significantly less water than traditional IDEC units. United Metal Products has provided this super efficient cooling solution for large technology data centers, colocation companies, and other enterprise mission critical facilities.
The DC-IRAe™ has been specifically designed for the higher cold aisle temperatures being applied in today's Data Centers. Applying this technology can provide the power, installation and maintenance cost savings to the owner while lowering dramatically the PUE.
FEATURES
Indirect evaporative cooling (70% and above efficient) free cooling strategy
No water use - dry cooling mode
5,000-100,000 CFM or higher
30 kW-600 kW of cooling capacity
Double wall foam filled thermal break construction
Trim - chilled water cooling 10% -50%
100% - DX back up
EC fan variable speed technology
Modularity plus scalability to suit site requirements and performance
Single point power connection
ETL listed and labeled in accordance with UL1995
---
Indirect Evaporative Cooling (70% and above efficient) free cooling strategy
No water use - dry cooling mode
5,000-100,000 CFM or Higher
30 kW-600 kW of cooling capacity
Double wall foam filled thermal break construction
Trim - chilled water cooling 10% -50%
100% - DX back up
EC fan variable speed technology
Modularity plus scalability to suit site requirements and performance
Single point power connection
ETL Listed and Labeled in accordance with UL1995