Replacement Parts & Supplies
United Metal Products® offers excellent replacement parts and supplies support for all lines of its standard and custom equipment. UMP uses modern CAD, bill of materials, and parts indexing for quick lookup, quoting, and delivery of replacement parts & supplies. These methods ensure contractors and end users experience a fast response and maximize equipment run time. Expedited shipping is available for critical component orders. Standard shipping and a walk-in parts counter are also available at the H0 facility at 1715 S. Holbrook Ln, Tempe, AZ.
Call 480-503-8088 or email parts@unitedmetal.com
For commonly used original Fan-Air replacement parts, browse the menu on the right to easily identify the right part for your unit.

Prior to calling for parts please locate your Serial#, Model#, or Job#. View sticker samples to locate the needed info:

For Bleed Rate information please see Chart.

For Operation & Maintenance Manuals please visit this page.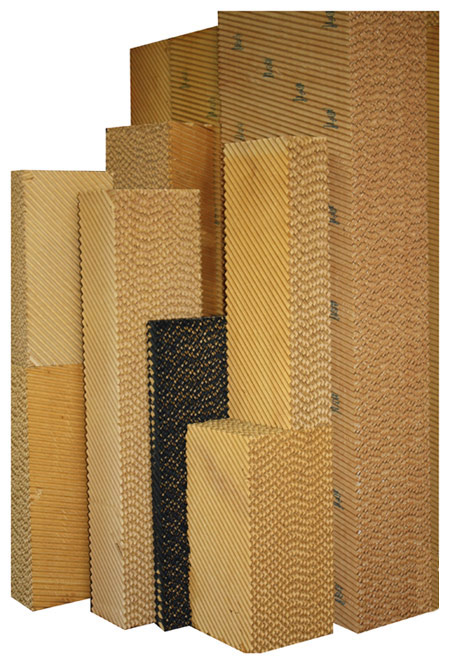 CELdek® and GLASdek® cooling media
CELdek® and GLASdek® cooling media have become the media of choice for today's high efficiency evaporative cooling applications. CELdek and GLASdek have revolutionized the cooling efficiency and performance capabilities of evaporative cooling units. United Metal Products is one of the largest processing facilities for evaporative media. UMP's Custom Cutting Department cuts the media to the precise specification for UMP Equipment or any customer specified dimension for a precise fit. This results in shorter lead times for our customers utilizing our Quick Ship program.
Cooling Media is a division of United Metal Products in Tempe, Arizona. We pride ourselves in offering:
Excellent customer service
Competitive pricing
Fast shipping
United Metal Products' long history of high-volume purchasing gives us strong buying power and allows us to provide you with a lower cost.