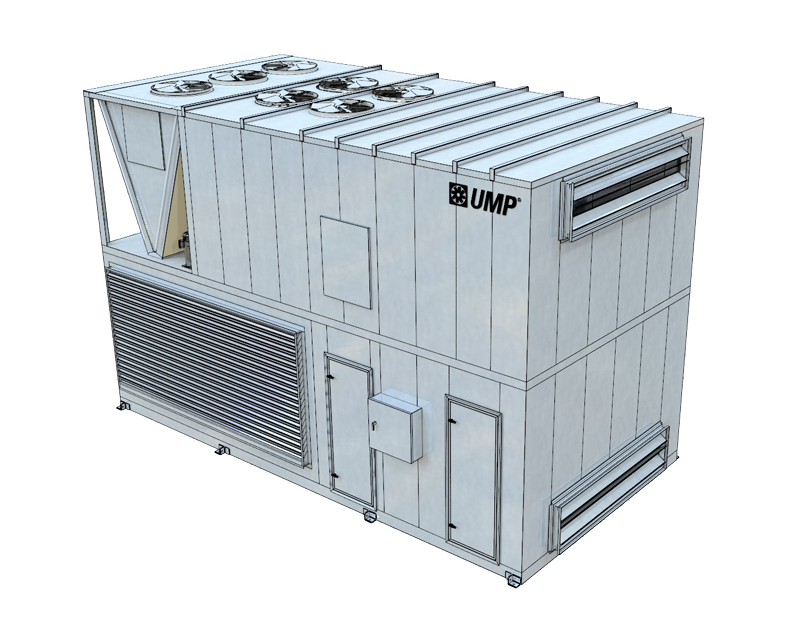 Evaporative Return Air
The DC-ERA™ (Evaporative Return Air) is a direct evaporative cooling solution for data centers. United Metal Products has provided this super efficient cooling solution for large technology data centers, colocation companies, and other enterprise mission critical facilities. This energy saving cooling system has been specifically designed for the higher allowable inlet supply temperatures to the servers that is being applied in today's Data Centers (ASHRAE TC 9.9). As Enterprise Data Centers, Co-location facilities, technology companies, and other mission critical facilities apply this technology they are strategically reducing the overall OPEX as well as significantly lowering their PUE.
The DC-ERA™ was developed as a superior solution because it takes advantage of best practices that UMP has applied, in the mission critical space as well as in other industries, for decades. This product provides data centers with the best of both worlds, an innovative energy saving solution that has a proven track record on other applications throughout the world.
FEATURES
0-100% OSA / evaporative economizer (free cooling)
5,000-100,000 CFM or higher
Powered variable exhaust
50 kW-1000 kW of cooling capacity
Double wall foam filled thermal break construction
Trim – DX cooling 10%-50% (option)
100% – DX back up (option)
Humidity control 2-4 steps (for winter operation)
EC fan variable speed technology
ETL listed and labeled in accordance with UL1995
---
0-100% OSA /Evaporative Economizer (free cooling)
5,000-100,000 CFM or higher
Powered Variable Exhaust
50 kW-1000 kW of cooling capacity
Double wall foam filled thermal break construction
Trim – DX cooling10% -50% (option)
100% – DX back up (option)
Humidity control 2-4 steps (for winter operation)
EC fan variable speed technology
ETL Listed and Labeled in accordance with UL1995